EPA work on dioxin and health
EPA Cumulative Exposure Project (CEP) report on health risks of toxics in food (PDF 428kb). Confirms dioxin exposure through food to be one of the highest cancer risks to Americans among toxic chemicals. Corroborates EPA Dioxin Reassessment estimate that average American has approximately 1in 1000 increased risk of cancer from food borne dioxin. Also see the former EPA Cumulative Exposure Project web site. EPA cancelled this important project for unspecified reasons.

EPA's Dioxin Reassessment (more than a decade in the making and still not final). Health Risk Assessment says dioxin levels in the average American present as much as a 1 in 1000 risk of cancer. For some Americans who eat a lot of animal fat or fish, the risk is 1 in 100. These risks are 1000 and 10,000 times higher than the government's "benchmark" levels for "acceptable" risk.
Open burning of trash is dominant source of dioxins in US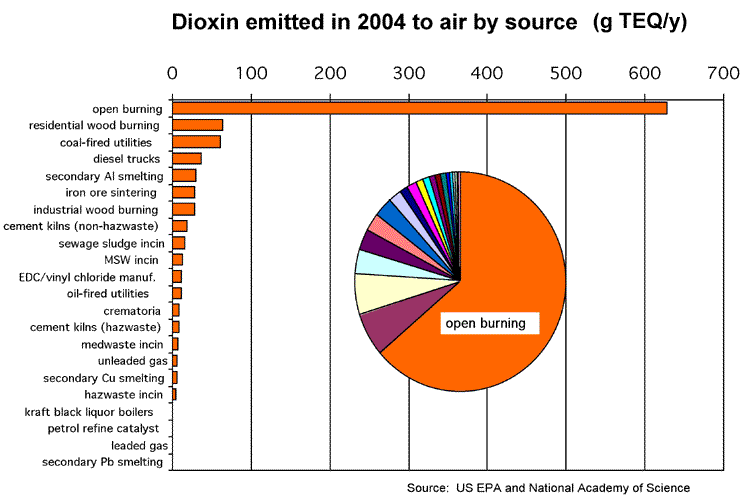 click for full size graph
Graph based on data from the EPA and National Academy of Science, report: Dioxins and Dioxin-like Compounds in the Food Supply: Strategies to Decrease Exposure (2003) Appendix A.
Main EPA study on toxic emissions from burn barrels
Press Release from American Chemical Society summarizing key findings. "BACKYARD BURNING IDENTIFIED AS POTENTIAL MAJOR SOURCE OF DIOXINS: Family's Daily Trash Burn Can Rival Emissions from Municipal Waste Incinerator"

Peer reviewed paper (PDF 104kb) on study published in Environmental Science & Technology of the American Chemical Society from 1999. Download is from GLBTS web page.

Evaluation of Emissions from the Open Burning of Household Waste in Barrels--Project Summary: EPA. (PDF 28kb) The report gives results of a detailed emissions characterization study undertaken to examine, characterize, and quantify emissions from the simulated burning of household waste in barrels. 1998

Evaluation of Emissions from the Open Burning of Household Waste in Barrels: Volume 1: Technical Report: EPA. (PDF 279kb) Provides information on emissions from open burning of household waste in barrels. 1997

Evaluation of Emissions from the Open Burning of Household waste in Barrels: Volume 2: Appendices A - G: EPA. (PDF 1.9mb) 1997

Emissions from Uncontrolled Burning of Domestic Waste: EPA (PDF 45kb) EPA followup to 1997 study. 2000
News accounts of EPA study
Backyard Burning Could be Major Source of Dioxins: Environmental News Service includes interview with lead author and photos. Jan. 4, 2000

Backyard burning is recipe for dioxin: Science News "Prompted in large part by concern over dioxin emissions, cities around the globe have been tightening regulations on municipal incinerators. Largely ignored have been rural households that burn their garbage in a barrel out back. A new federal study now indicates that just a handful of such fires can spew as much dioxin as a large municipal incinerator does." Includes interviews with specialists. References & Sources gives useful contact and reference information. Jan. 29, 2000

In the Backyard, a Potent Source of Pollution:New York Times by Robert A. Saar, "Household trash burned in one backyard barrel may release more dioxins, furans, and other chlorine-containing pollutants to the air than tons of trash burned by a municipal waste incinerator serving tens of thousands of homes, according to a report being made public today. " (545 words) Late Edition - Final, Section F, Page 12, Column 1, Jan. 4, 2000

Burn barrels fuel dioxin levels: CNN (Cable Network News) includes photos and links to related articles. Jan. 10, 2000

Burn barrels fuel dioxin levels: Environmental News Network, by Lucy Chubb, original for CNN. Jan. 10, 2000
Open burning found to be number 1 priority for preventing pollution amongst 62 pollution sources examined by New York State Dept. of Environmental Conservation. NY DEC Comparative Risks Project Final Report. Nov. 2002.

Recent study presented at Dioxin 2004, International Symposium on Halogenated Environmental Organic Pollutants and POPs, held in Berlin, Germany Sept. 5-10, 2004.
Study re-analyses new US EPA data from open burning experiments and finds that amount of PVC in waste is the most important predictor of dioxin emissions.
All papers presented at Dioxin 2004 are on line and their full text can be searched using Google.
To get all of the papers, download the entire conference proceedings in compressed format, along with an index.
Recent studies presented at Dioxin 2003, International Symposium on Halogenated Environmental Organic Pollutants and POPs, held in Boston, Aug. 24-29, 2003.

England's Environment Agency report finds barrel incinerator burning of polyethylene plastics by farms produces significant pollution (Sept. 2004).
The Environment Agency has carried out a technical and scientific assessment of the drum incinerator that indicates that the environmental impact from drum incinerators is far more significant than previously thought. The research concludes that the design of a drum incinerator is such that its combustion efficiency is little better than open burning. The emissions to air are not significantly different from that which would be produced by burning the plastics and other materials on a bonfire.

Study by Swedish EPA finds PVC plastic (polyvinyl chloride or vinyl) to be major source of dioxin in home burning:
"Chlorine-containing plastic waste gave rise to high emissions."
The most common chlorine-containing waste is PVC found in so-called blister-packs. In the US, another common type of chlorine-containing plastic waste is PVDC (polyvinylidene chloride) or the original Saran Wrap commonly used to wrap foods. PVC is also found in other disposable items and packaging, often disguised as a layer in multi-layer plastics. The Swedish study looked at burning trash in home wood stoves and boilers, but applies to outdoor burning as well.
Danish study says home burning of trash may be one of largest sources of dioxin in Denmark. Home Fires Targeted in Danish Dioxin Warning COPENHAGEN, Denmark, Feb. 1, 2001 (ENS) - "The Danish environmental protection agency (EPA) today launched an information campaign aimed at householders, warning of the environmental hazards of burning waste in domestic heating boilers and wood stoves. 'Milk cartons, painted and impregnated wood, printed matter and plastics are rubbish which belong in the waste bin - not the oven!' the agency said."
State of Maine 1997 Backyard Trash Burning (BYB) Study: Maine DEP. This study found that dioxin and particulate emissions may pose a local public health risk. Backyard burning was identified as a major source of dioxin statewide. The dioxin content in the ashes was determined to substantially exceed state guidelines for land spreading. Web page gives executive summary. Full report available by writing agency.
Environmental Threats to the Health of Children: The Asian Perspective: Environmental Health Perspectives "Exposure to dioxins and furans ... is likely to be significant because of the common practice of burning plastics in backyard burn barrels and city dumps." Oct. 2000.