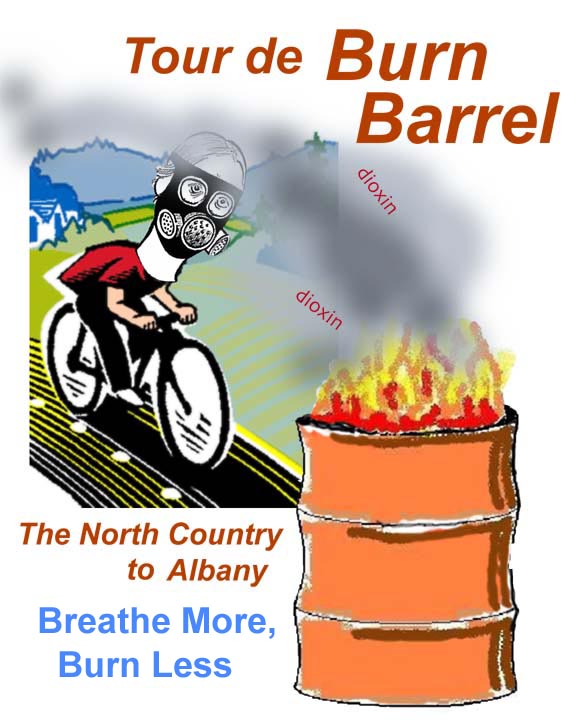 The 2005 Tour de Burn Barrel was a great success. The weather was beautiful which meant we had lots of chances to stop and talk to people who were outside. Everyone was friendly, but many were not aware of the health dangers of burning trash and several commented that "If it's that bad for people and the environment there would be a law against it". That is precisely the message we delivered to New York State Senators when we arrived at the Capitol in Albany. Until they close the loophole which allows residents in towns under 20,000 population to burn trash, few will take warnings of health problems seriously.
Senators cited opposition by the New York State Farm Bureau to any restrictions on burning as a main reason for maintaining the status quo. On our bike ride we found that farms were amongst the worst offenders when it comes to burning not only the plastic hay bale wrappings but also domestic and other farm wastes.
Find out how some farmers have learned that responsible disposable of their wastes is actually very easy and inexpensive. The NYS Farm Bureau is behind the times and is putting farmers and the food industry at risk for massive liability as well as a drastic public confidence crisis in the safety of their products. By advocating for continued open burning of farm wastes the NYS Farm Bureau is promoting the practice which the US EPA now says is the single largest contributor to dioxin contamination of the food supply.
Read the press release (PDF 190kb) for more information on the politics of burn barrels in NYS.
Listen to North Country Public Radio stories on 2005 Tour de Burn Barrel:
April 16, 2005 "Bike Ride Highlights Trash Burning Dangers"
April 19, 2005 "Tour de Burn Barrel Reaches Albany"
Watertown Daily Times articles "'Tour De Burn Barrel' Protestors Are Pedaling To Albany" and "Environmentalists Bicycling To Albany To Push For Ban On Burn Barrels"
WPTZ-TV Plattsburgh NY story Trash Burners Could Cause More Pollution.
Photos from 2005 Tour de Burn Barrel:
Starting out from The North Country: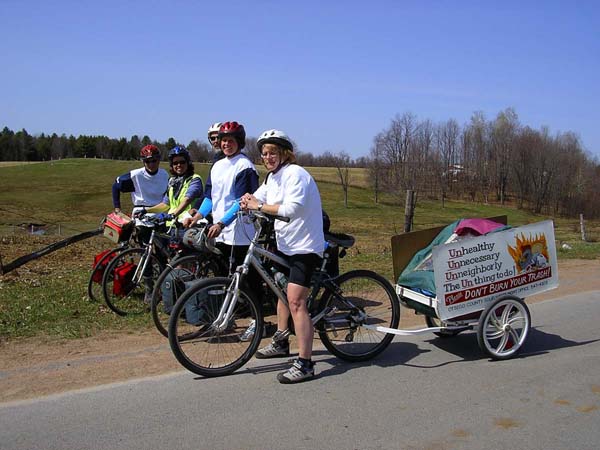 Arriving in Lowville: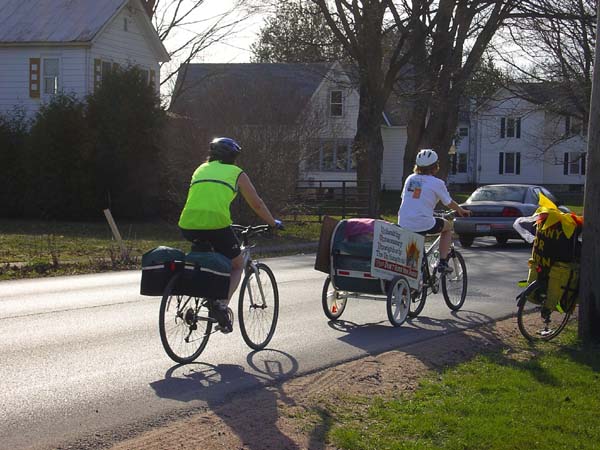 A farm burn barrel in Lewis County: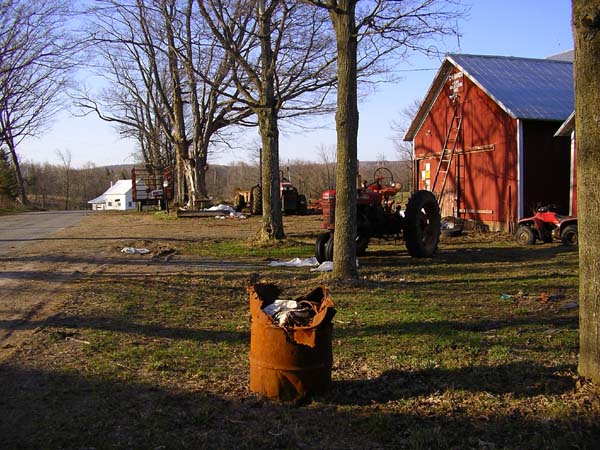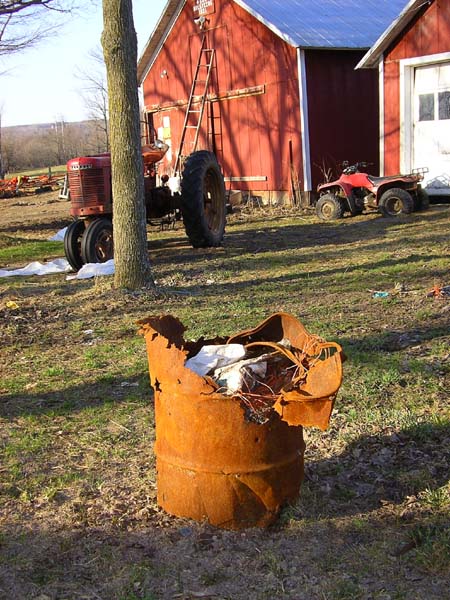 A close-up view shows plastic feed bags, plastic bailing twine, and plastic bottle: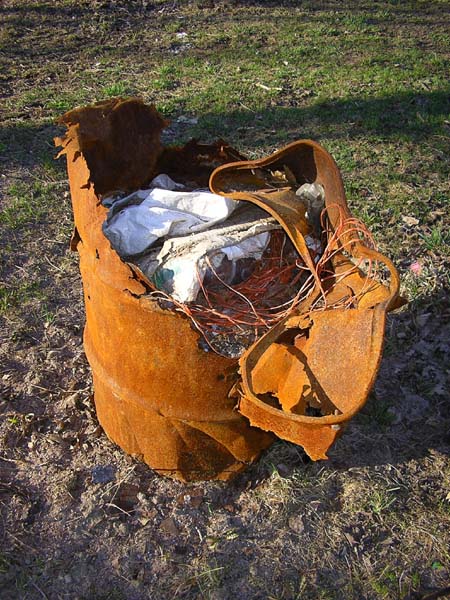 Approaching Herkimer after about 130 miles of riding and seeing burn barrels at houses and farms on nearly all of those miles: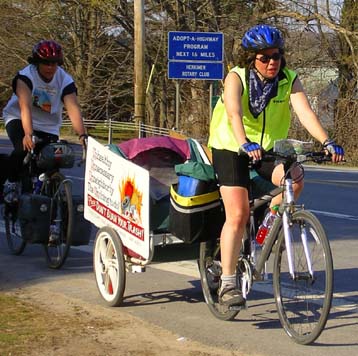 We kept seeing burn barrels up to the city limits of Albany, including this one in a Western suburb: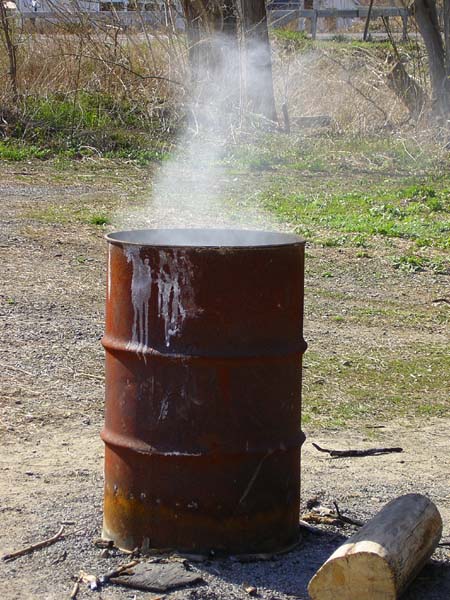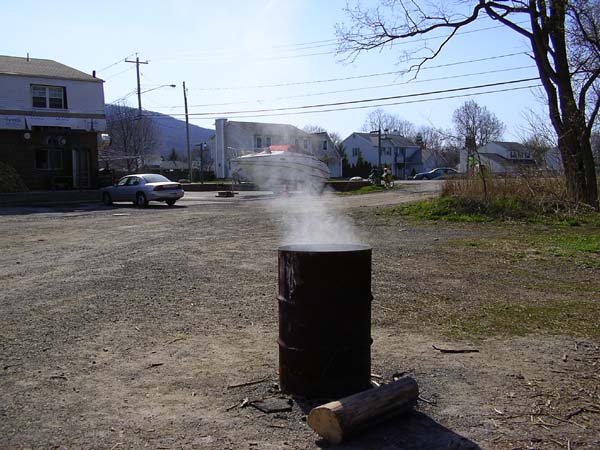 The First annual Tour de Burn Barrel was held Friday April 16 - Monday April 19, 2004. Everyone had a great time and recommended we repeat it annually (at least until the NYS Senate passes a burn barrel ban). So, this year the Second Annual (2005) Tour de Burn Barrel will take place from Saturday April 16 to Tuesday April 19, 2005. More information on route and ride including maps below.
Ride description:
The ride is scheduled to arrive in Albany at Empire State Plaza to coincide with Earth Day Lobby Day where hundreds of environmentalists will be gathered to push for environmental bills in the New York State Legislature, including a bill to ban burn barrels statewide.
The bicycle tour will travel scenic back roads following the Oswegatchie, Black, and Mohawk River Valleys. It will pass through prime burn barrel country. The tour will cover about 50 miles a day and everyone is welcomed to join for a few miles or the entire four day trip. Contact Tour de Burn Barrel info for details.
Gas masks are optional.
New Ride Maps for 2005 tour available for download below.
Scenes from 2004 Tour de Burn Barrel: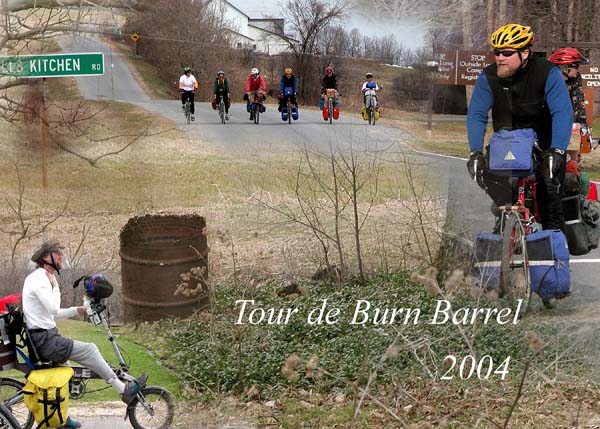 Collage of scenes from the tour. Thanks to Paul Clarvoe.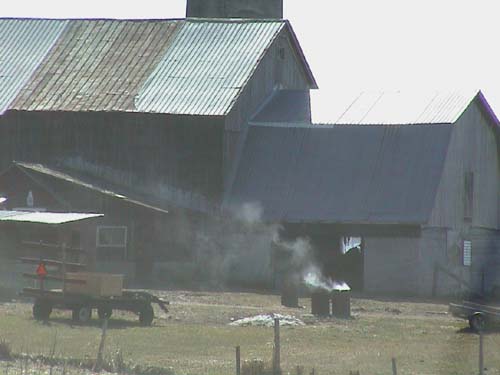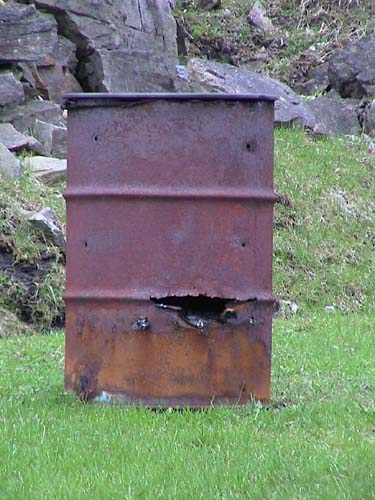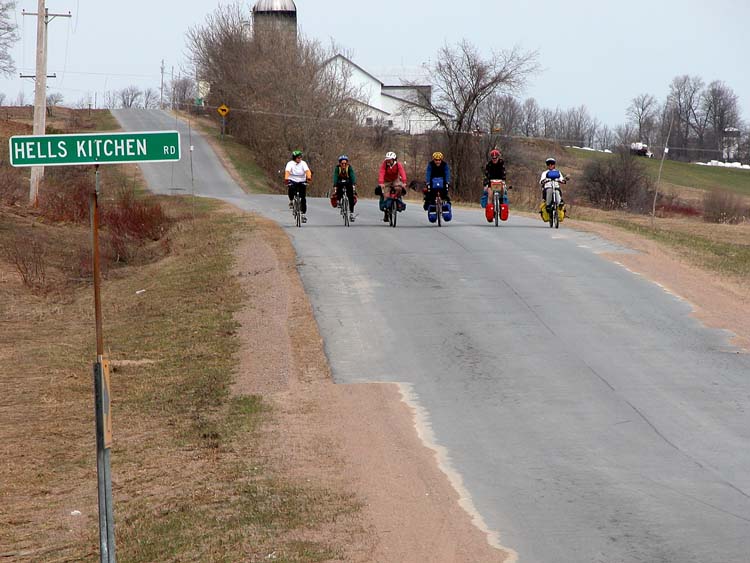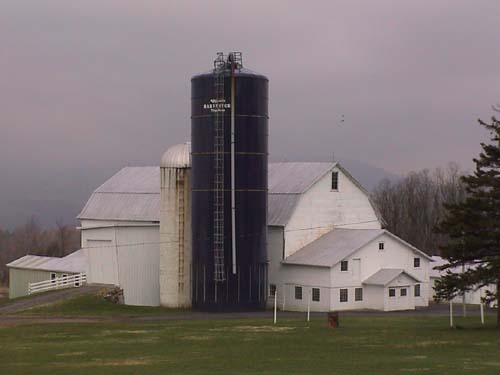 A tidy barnyard ... complete with burn barrel.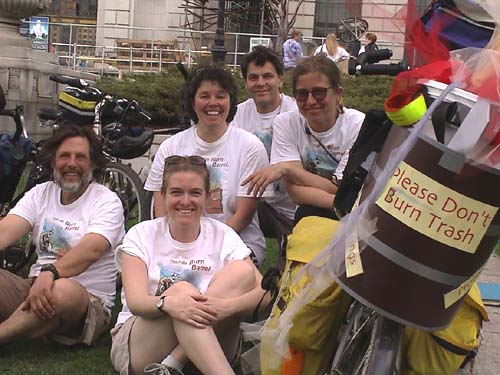 More photos.
Over 210 miles in 3 1/2 days through rain, sun, and fumes of burning trash. Eight riders participated. The back roads were beautiful, people were friendly, burn barrels were visible everywhere throughout the route. A rough estimate is that half the households and farms we passed had burn barrels. It was fun. Join us next year when we hope it will be a Tour de Clean Air ... the New York State Senate will have finally passed a law banning burn barrels.
Overview map and elevation profile for 2005 Tour de Burn Barrel:
overview & profile (200kb)
Route Maps (These are from 2004, the 2005 ride route has some modifications that are reflected in the complete Ride Map booklet that can be downloaded below):
Large North map (700kb)
Large South map (1000kb)
(To print you'll need to use Print Preview and Page Setup and scale these down to fit onto one piece of paper. 35% might be about right for Large maps and 40% for Ride Maps.)
New updated Ride Maps for 2005 Tour de Burn Barrel:
Detailed Ride Maps (there are 20 maps printed two per page, designed to be printed back-to-back. Cut each sheet in half on line and bind them and they will flip properly. Note that the EVEN pages are up-side-down. When printing back-to-back keep them that way and the final assembled booklet will flip most logically.)
Color maps with route high-lighted. 1 mile = 3/4 inch
PDF is about 10mb in size and you'll need a color printer. Printing on water resistant photo paper is best.
Download 2005 Tour de Burn Barrel Ride Maps booklet (10 mb PDF)
Topographic Route Maps for 2005 Tour de Burn Barrel:
NOTE: 6 to 9 mb for each PDF.
Sat. map 1 Russell to Pitcairn
Sat. map 2 Pitcairn to Belfort
Sat. map 3 Belfort to Whetstone Gulf SP
Sun. map 1 Whetstone Gulf SP to Forestport
Sun. map 2 Forestport to Middleville
Sun. map 3 Middlevile to St. Johnsville
Mon. map 1 St. Johnsville to Canajoharie
Mon. map 2 Canajoharie to Schenectady
Tues. map 1 Schenectady to Albany Capitol