US EPA backyard burning website
CBS News 60 Minutes on open burning of electronic waste in China
Scientific study finds PVC plastic (vinyl) is major source of dioxin from burn barrels
"Barrel Burning Under Fire" in Mother Earth News
Vermont governor bangs on burn barrels, Boston Globe
New York Times story on burn barrels.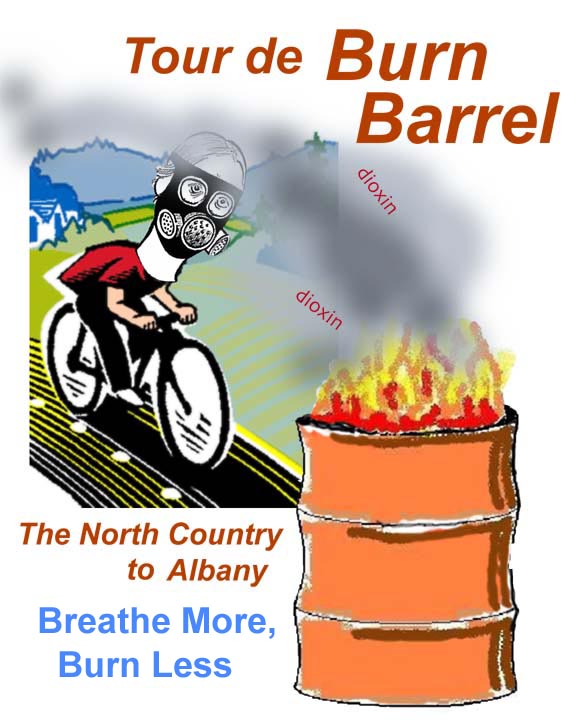 2nd annual Tour de Burn Barrel bike ride to raise awareness in New York State, April 16-19.
England's Environment Agency report finds farm burning likely to "cause pollution of the environment or harm to human health".
Bernie the Burn Barrel 30 sec. TV spot preview.
New York State DEC rates reducing open burning the number 1 priority for reducing health risks from pollution. Rated higher than 62 other pollution prevention strategies.
New Mexico bans open burning of trash
Lots of radio news stories on burn barrels in New York State from North Country Public Radio.
Plattsburgh Press Republican editorial: Ban burning in back yards
Recent scientific papers from Dioxin 2003 and Dioxin 2004 discuss burn barrels and PVC as important sources of dioxin pollution.
Two dairy farmers switch from burning waste to proper disposal ... find it is easy and costs are "insignificant".
St. Lawrence County Farm Bureau considering burn barrel ban resolution
St. Lawrence County Legislature to again consider burn barrel ban
EPA says dioxin in a typical diet yields one of the highest cancer risks among all toxic exposures.
St. Lawrence County survey found over 50% of rural households burn trash
Added material on farm trash burning
Burn Barrel Ban Stalled in NY Senate news story from North Country Public Radio. Also, Commentary on Burn Barrels.
Editorial Ban Backyard Trash Burning in Ogdensburg Journal
New York DEC cites open burning prohibition for village of Waddington, NY
Information on New York statewide bill to ban burn barrels
See winners of Earth Day Poster Contest featuring burn barrel themes